Before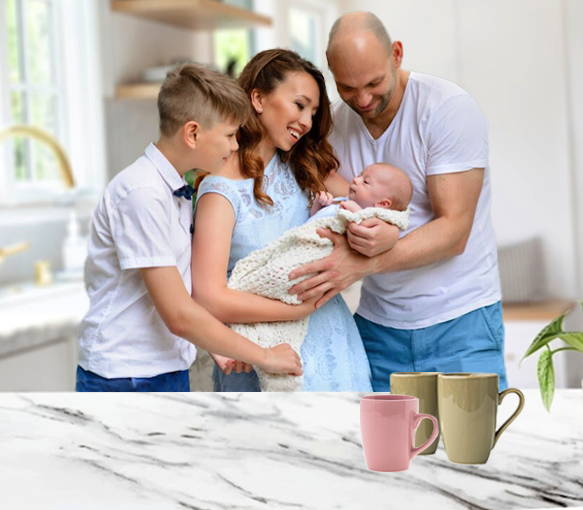 After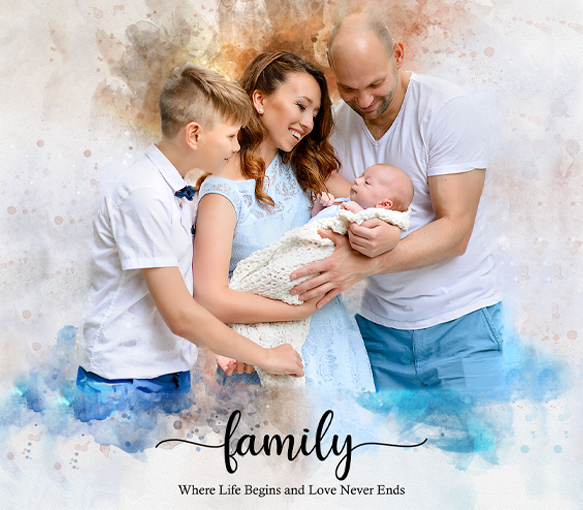 We Love to Turn Photos into Fabulous and Distinct Works of Art!
We transform your photo into a beautiful individual painting. Our artists use our unique digital hand painting style to turn your photo into a gorgeous work of art with your family, pet, etc. that will become the center of attention in your home.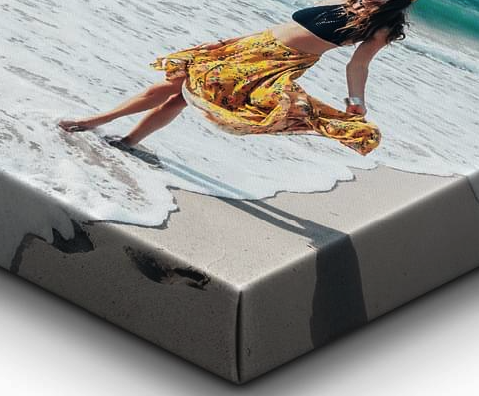 High-Quality Stretched Canvas
Our stretched canvases are handcrafted with tough, 1.5" hardwood frames.

Our portraits are secure. We print all our canvases with custom-developed UV-resistant, water-based latex inks that are solvent-free and odorless.

Every print comes with a beautiful, vibrant, and fade-resistant finish on premium artist-grade canvas that features a classic texture.

The canvas front is designed to be sturdy and solid, preventing any sagging or stretching.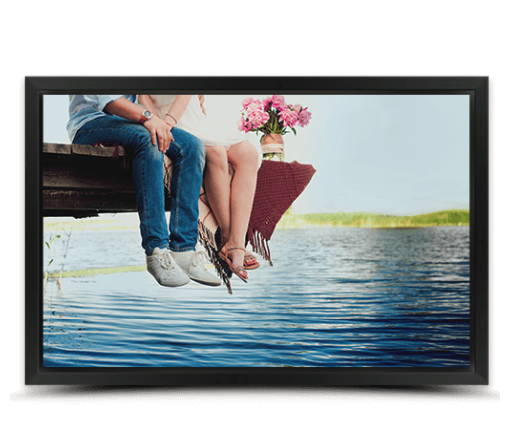 Our high-end gallery wrap canvases feature an external floating frame that creates a quarter-inch gap between the canvas and the frame.

Our stylish frames are designed to showcase the folded edges of your stretched canvas, creating a sleek and contemporary aesthetic that is highly sought after in modern galleries.

The framed canvas comes with hanging hardware already installed, making it ready to hang right away! Additionally, the framed canvas is designed to be both durable and lightweight, making hanging a breeze.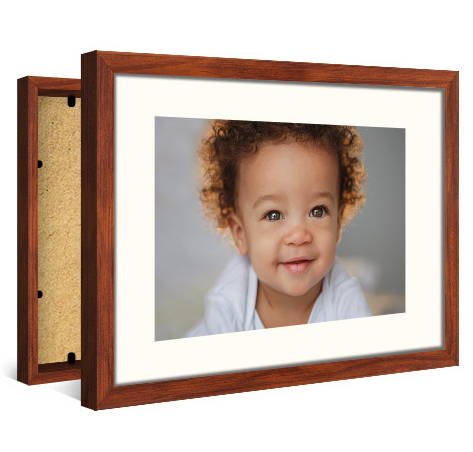 A conventional solid frame structure for a timeless display layout.

Printed on genuine high-end photo paper. With Passe-Partout/Mat for that Genuine Art Gallery Look

Cardstock with a lovely oblique cut. The frame comes with our hand-polished Plexiglass cover. Frame make-up based on genuine art gallery exhibits.
Shipping times for US orders.
We paint, print, package and ship out of our US location. So you will get your order very quickly. FREE standard shipping to the 48 contiguous States.
FREE SHIPPING: 5-10 business days
Expedited shipping ($19.95): 3 - 5 business days
Express shipping ($65): 2-3 business days
Alaska and Hawaii Shipping times
Standard shipping ($39.50): 5-10 business days
Expedited shipping ($59.45): 3 - 5 business days
Express shipping ($94.50): 2-3 business days
Canada Shipping times
Standard shipping ($29.95): 5-10 business days
Expedited shipping ($49.45): 3 - 5 business days
Express shipping ($94.50): 2-3 business days
For other countries, please ask us for our fair shipping rates.
You will receive a tracking number. Please ensure that someone age 18 or older is at home to take your order. We are not responsible for stolen or undetectable orders after your order has been delivered. If an order consists of several individual paintings, we will send the paintings in a single shipment.
IMPORTANT! Because the majority of our shipping providers do not deliver to P.O. Boxes, please include a physical address in your order. Otherwise, you run the risk that your order can't be delivered or that you will be asked by the shipping provider to pick up your order at their local facility.
Why pick Us for your Custom Artwork?
Great Service, Fast Turnaround
We offer 24/7 customer service. You get your personal artist who takes the time to create your artwork. Whenever questions arise, your artist will get in touch with you. Not only do we offer Free Shipping, but we can also deliver very quickly (2–3 business days).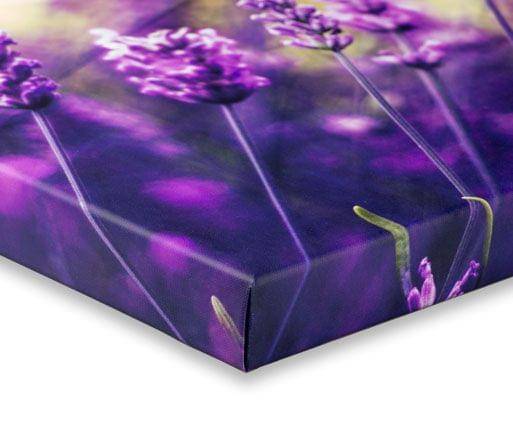 In order to guarantee impeccable quality for every portrait, we select our materials very carefully. All orders are executed exclusively on the finest gallery-quality photo paper and canvas.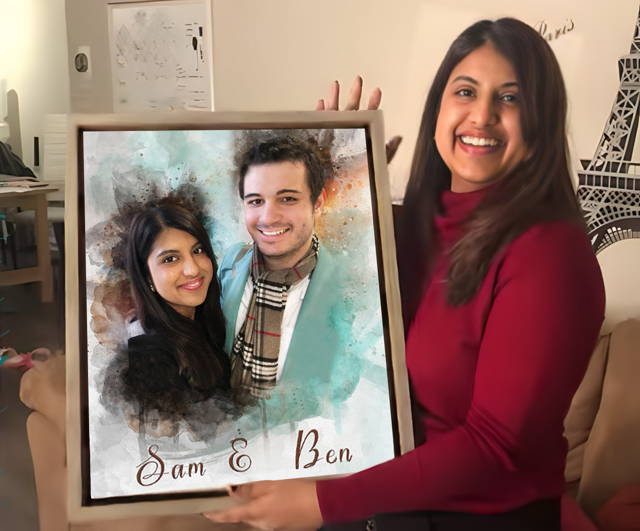 Custom Gifts for Every Occasion
Giving a gift designed exclusively for the recipient is one of the most extraordinary types of gifts. Giving personalized artwork shows your high appreciation for the recipient.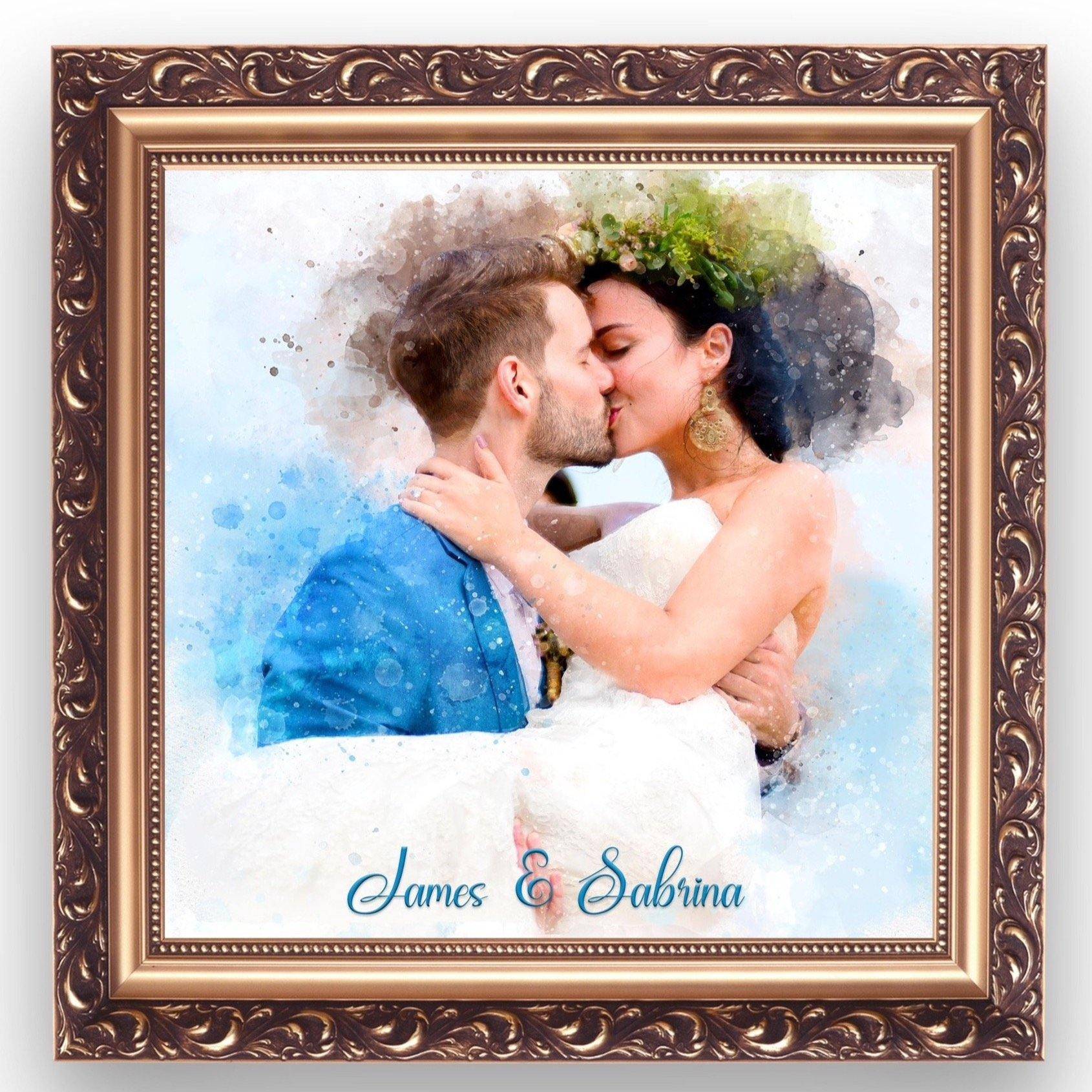 Unique Wall Art For your Home
Opt for a stretched canvas, a framed canvas, or a photo frame with passe-partout in various sizes that are suitable for any room in your office or home. This unique gift comes ready to hang.
Products have
reached consumers
Satisfied customers and
five-star reviews
Happy Returning
Customers
Limited-Time Promotion! Order Now and Get Your Free Solid Hanger Set
Frequently Asked Questions
Still have questions? Send us your question by filling out the form below, we will be happy to assist you.
I ordered multiple products. Will they all arrive at the same time?
Yes, in most cases, they'll all arrive in the same package.
Will I get a tracking link?
Of course, we'll email you the tracking link as soon as possible. Once you've got your tracking link, your portrait should arrive within a couple of days.
My order arrived damaged. What to do now?
Please send us an email with a photo of the damaged order as quickly as possible. We'll send you a replacement asap.
Do you offer restoration and recoloring of old Photos?
Yes. You do not have to worry about this; we make photo restorations and recolor your old photos before painting for a little extra charge. Feel free to send us your photo; it would be our pleasure to check it for you in front.
Are your Artworks Made in the USA?
Yes, we proudly create your artwork in the USA. We produce and ship from the USA only.