Regular price
Sale price
$50.00 USD
Unit price
per
Sale
Sold out
Our custom dog lover paintings gift cards are the perfect gift for dog and cat owners and animal lovers.
With this gift card, you can give them the unique experience of having their furry friend's portrait painted by a professional artist. The recipient can choose from a variety of painting styles to capture the personality and essence of their furry best friend. The painting is done using high-quality materials, ensuring that the portrait lasts for many years to come.
The gift card is easy to purchase and can be redeemed at any time, making it a thoughtful and practical gift for any occasion. The custom dog lover painting is a truly special way to preserve the memory of a beloved pet.
View full details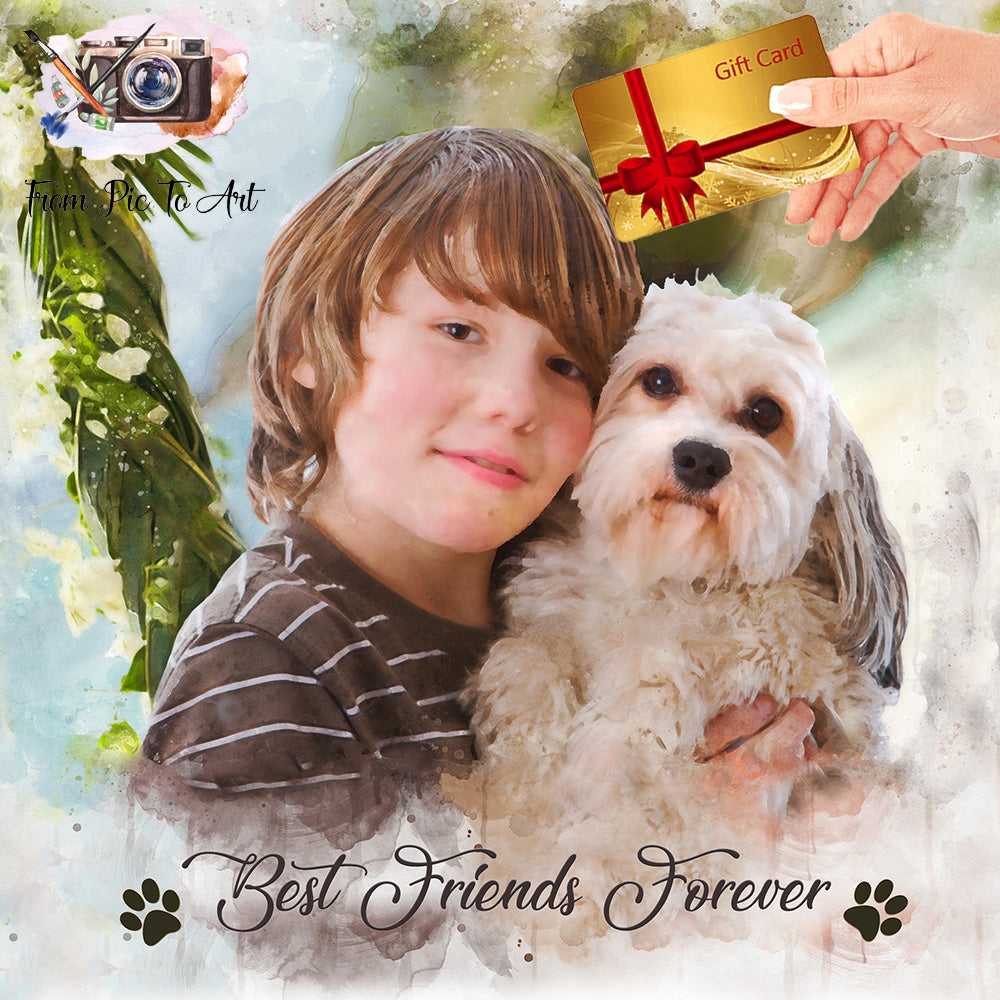 Excellent job!!! 💙
I wanted to give this to my dad on Father's Day and they did worked hard and deliver it just before. My father was emotional seeing his mom and dad together with him. Growing up he never had a picture with them all together and his heart got full to see how real it looked. I will 100% recommend From Pic to Art to all my friends and families. Thank you again for all your hard work we love it!! ❤️
Hi Yesenia, thank you so much for your heartwarming review! We are thrilled to hear that our team's efforts in incorporating your deceased loved ones into the photo brought such joy and emotion to your father on Father's Day. Creating a moment where he could see himself alongside his parents, even if it was digitally, means the world to us. We appreciate your kind recommendation to your friends and family, and we're grateful for the opportunity to contribute to your cherished memories. Thank you for choosing From Pic to Art! ❤️
Hi Denia,
Thank you for your kind review. We hope you and your family will enjoy it for decades to come.
Birthday gift
I had a photo made for a birthday gift and the recipient LOVED it!!!! Absolutely amazing!!!!!! Will be ordering again!
Hi Kristy,
Thank you so much for your wonderful review. We're absolutely delighted to hear that our custom painting that we created for the birthday gift was a hit and that the recipient loved it. It's our goal to provide amazing and heartfelt experiences through our services, so your kind words mean a lot to us. We look forward to serving you again in the future. 
I was skeptical in the beginning having not known anyone who had used this website, but they quick to answer my questions and troubleshoot when I had issues with my payment going through. Once it did, they honored my request to send me a preview. When I got my canvas, it was way better than I even anticipated! I highly recommend them!
Hello Julie,
Thank you for sharing your experience with us. We understand that sometimes it can be a bit difficult to trust a website without previous experience, and we are glad that we were able to offer you a positive experience. We pride ourselves on providing exceptional customer service and very talented artists who love what they do. It's wonderful to hear that the final canvas exceeded your expectations! Thank you for recommending our website, and we look forward to serving you again in the future.
Happy customer
If I could give this company a 10 I would . I have never been so satisfied with a product I've purchased online . My canvas came out better then I expected. These guys rock. The price was well worth it. They say a picture is worth a 1000 words well this picture is worth a million my mom passed before I had my last 2 girls so to be included in a family photo is amazing and I love it . I placed my order and got it in exactly a week . Love u guys
Hi Aida,
Thank you so much for your highlighting and lovely review. ♥️ We appreciate your kind words very much and hope to see you again! :)